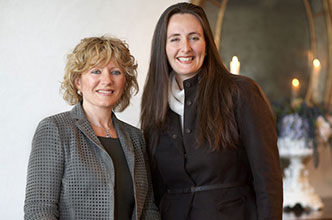 Our Founders, Amalia Palmaz and Florencia Palmaz
The mother-daughter team of Amalia and Florencia Palmaz have many passions in life but family and food are at the top of their interests.
In 1996 the two of them started a boutique food distribution company in San Antonio, Texas, featuring locally-sourced meat and fowl. Their intention was to become a strategic supplier to fine dining restaurants around the country helping chefs elevate their menus. Soon the business grew to include a catering division that evolved into a foodservice manufacturing and gourmet foods catalog. Eventually the meats and the catering divisions merged into an innovative provider of high quality prepared items for the foodservice and supermarket industry.
Now 20 years later GoodHeart Brand, which produces high quality all-natural prepared meats, brings  flavorful meal solutions to cooks at home as well as countless chefs and supermarkets nationwide.
Additionally,  the Argentinian natives are co-founders and partners of Palmaz Vineyardsin California's Napa Valley where the entire family live and can be found having lunch or dinner together on any given day. Amalia credits the success of this dynamic and entrepreneurial family to its commitment to gathering together at the table.
Florencia's cookbook and entertaining guide "Palmaz Vineyards: At the Table and Around the Fire," is a stunning anthology inspired by the art of winemaking and her desire to gather friends and family with great food and wine. Dividing her time between Napa and San Antonio, she lives on the Palmaz estate with her son Nicholas.
Whether it's barbecue, quick weeknight supper or elegant dinner, Amalia and Florencia's keen focus on meal and party planning drives their compelling enthusiasm to help home cooks create memorable meals with style and ease.